Pescatori, Fitzrovia, London January 2013
The best of seafood gets an Italian flavour at the Pescatori fish and seafood restaurant in London's suave Fitzrovia neighbourhood, just off Goodge Street. Always busy and buzzing with lunchtime meetings and couples seeking a well deserved meal, here modern meets traditional in Pescatori's comfortable, unpretentious dining room, with a romantic rustic vibe.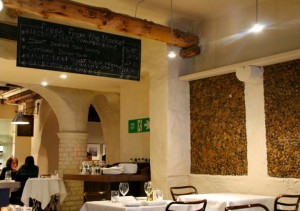 The whole place gives off the impression that while it is certainly authentically Italian, it is also fresh, classy, modern and distinctly urban. This was reflected in the approach of the Pescatori staff who were all incredibly charming, knowledgeable and attentive.
Fanatical about fish, Pescatori carefully selects the produce it serves, determined to offer flavour while supporting small scale businesses and promoting ethical seafood. For example, crab and sea bass are sourced directly from a family run business in Cornwall, and you'll enjoy a seasonally changing menu as well as super fresh Catch of the Day off the specials menu.
With the choice of the set menu or à la carte, a wide scope of dishes are on offer. The seared scallops wrapped in salty pancetta commended the sweetness of the smooth caramelised cauliflower puree – a well executed starter, as was the silky buffalo mozzarella, nestled on a bed of grilled vegetables and tangy aged balsamic.

The Wild Sea Bass Fillet was pan-fried with venere rice and braised fennel. The crispy-skinned fish worked wonders with the purplish-black creamy risotto, with meltingly soft fennel flavours. The side of Parmesan courgette frites were disappointingly over-salted, but only to come back the same when rectified by the helpful staff. The second course, Braised Icelandic Cod Filet in N'duja with Caponata Siciliana offered hints of spicy tomato with an aubergine medley. Simple, well thought out dishes, bringing the taste of the fresh fish to the forefront.

To finish off, the range of desserts had a mostly Italian spin: Cream of Tiramisu, Barolo Poached Pears, Chocolate Torte or the traditional Russet Apple & Blackberry Sbrisolata,topped with pistachios and hazelnuts. The tiramisu could not be faulted, with creative presentation in an edible wafer basket, coffee crème and sponge all tucked inside. The pears were a large portion, beautifully soft although slightly overpowered by spices. The limoncello followed towards the end of the meal – a pungently strong acquired taste that would have anyone walking sideways back to work.

Overall, a place for a special occasion or business meeting to impress clients, Pescatori has a slightly overpriced menu, but suits its location in Fitzrovia.
Food: 14/20
Drinks: 15/20
Service: 18/20
Pescatori  47/60
Blanch & Shock Residency at House of Wolf, 7th November 2012
This month sees the experimental and innovative charms of Blanch & Shock as they take over the kitchen at House of Wolf in Islington. Being the perfect residency for them, it combines a multi-functional, "multi-sensory experimental pleasure palace, dedicated to the creative pursuits of dining, drinking, art and entertainment".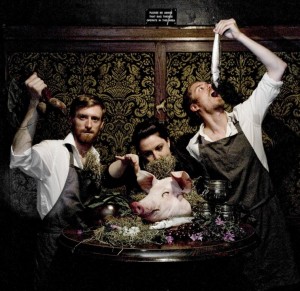 The newly renovated historic music hall now houses an experimental cocktail bar, a live music venue, a restaurant and private dining rooms – all shrouded in mystery as you are led up two flights of stairs uncovering a chandelier and a candlelit dining space.
The menu is a well thought out 5/6 course journey resembling their code: "Work closely with suppliers, finding out what they're most interested in and giving them more of a say."
This is matched with an apothecary list of experimental cocktails pushing all boundaries from the Black Treacle: smoked black pudding infused Havana 7, fresh apple and molasses, served with a slice of cakey pudding topped with caramelised apple.
Their cocktails invoke intoxicating flavour combinations to challenge the senses, like the Over the Pop – a popcorn-infused Makers Mark Bourbon sour, with the glass covered in bubble wrap and accompanied with cherries for dipping in popping candy.
Beautifully artistic plates were served with a steady flow and there's a reason why things are placed the way they are: the whey-ness of the yoghurt churned fresh butter, limp but fortifying smothered on Einkorn wholegrain and see-through Trealy Farm lardo wrapped prawns with a mellow mallow oil. The dish was followed by delicate pieces of wild sea bass decoratively sat in dill-vinegar with vibrant oxalis leaf, chervil root and celery cress.
The winner of the menu had to be the execution of the mallard duck, tender pink, with a quenelle of chestnuts, topped with scarlet hawberries and a mouth-watering Jerusalem artichoke enhanced by scatters of melliot herbs. Later followed by an equally fantastic dry-aged beef with salsify, fermented turnips, dandelions and piquant oyster emulsion.
The meal finished eloquently with Brogdale crisp apple slices, quince, sourdough brioche eggy bread, a sour yoghurt curd and buttered black tea syrup balanced the dish well. Not overbearingly sweet, in comparison to the alternative option of the interactive TIKI cocktail with edible demerara beach, creamy coconut shells, caramelised pineapple and a lethal mouth rum explosion.
Should you go?  Well, in the heart of Islington you get a wolf-howling menu, a feast for the senses by possibly the next Heston food purveyors and  creators in modern yet edgy British cuisine, not to be missed at £45 for the menu, it's worth it even to push the boat out and try those exciting cocktails.
Food: 18/20
Cocktails: 17/20
Service: 17/20
Blanch & Shock: 52/60
For more information on Blanch & Shock, click here, and for House of Wolf, click here.
The menu
Einkorn wholegrain bread with yoghurt whey butter
Raw prawns with Trealy Farm lardo, hogweed, mallow oil and salad burnet
Wild sea bass in dill-vinegar, Isle of Bute dulse, purple oxalis leaf, chervil root and celery cress
Wild mallard duck with chestnuts, scarlet hawberries, Jerusalem artichokes and melilot
Various cuts of dry-aged beef with salsify, fermented turnips, dandelions and oyster emulsion
Brogdale apples, quince, sourdough brioche eggy bread, yoghurt curd and buttered black tea
Death by Burrito, October 2012
Death by Burrito is an exciting contemporary Mexican grill and cocktail bar brought to you by Shay Ola of underground experimental concept, The Rebel Dining Society. Located at the renowned Catch Bar in the heart of Shoreditch, and in keeping with Rebel Dining Society traditions, experimental cocktails form an inseparable part of the dining experience.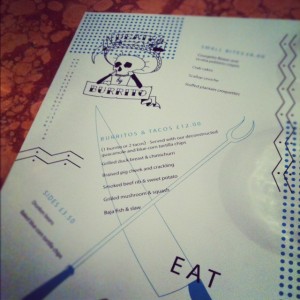 At the bar was Ryan Chetiyawardana (formerly of Worship Street Whistling Shop), who has developed an exclusive (and lethal) Tequila-only cocktail list using Jose Cuervo Tradicional to go along with the street-food style menu.
The concept of murderous Burritos was created by the notorious Rebel Dining Society, who have showcased innovative culinary ideas featuring interactive art and musical performances at their dining events in the past. Always with a strong focus on catching your imagination, we sat in surroundings with a projected "Wet Paint" sign pulsing on the wall while screams of 80s classics, hip hop and garage loudly created background to the dining experience.
The Tequila-only cocktail list was diverse, with drinks on offer from Horchata, a spiced milky drink, to Turbo Chelada, a medley of lager, tequila, cucumber, lime and a topping of thyme salt air – which slightly resembled bath foam.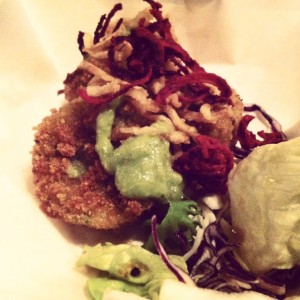 If that wasn't enough to put hairs on your chest, the simple, yet exciting menu boasts small plates from £6 and Burritos or Tacos with fillings for £12: all Mexican street food.  The food came together, covering our table with street food style boxes, sampling first the Crab Cakes, not overcompensated with potato, and a plate of thyme laced Courgette flowers with Ricotta Poblano Crepes. The Taco and Burrito options are where the menu excels, offering options such as Pork Cheek with Crackling, Beef short rib with sweet potato, Baja fish and duck breast, yet no sign of chicken? In truth, we didn't really miss it.
We then tried the Pork Cheek Tacos, which arrived piled on high, not shy of meat, with thin strips of crackling – the tacos buried under the mound with a selection of salad, blue corn tortilla chips and deconstructed guacamole – just like guacamole, only a more liquid consistency. Small touches like juicy roasted cherry tomatoes, pomegranate seeds and flecks of cheese added subtle flavours.
The Beef Short Rib burrito was crammed with braised flavoursome, smoky meat and mellow sweet potato which made for a perfect marriage. The portion size does not fail to disappoint and leaves you only wishing you could finish it all. After the food, we only savoured something sweet to finish it off, yet there are no desserts on offer at Death by Burrito.
Still a buzz on a Monday night, having spent less than an hour here, it's a happening joint for quick, tasty Mexican street food washed down with killer cocktails and the indescribable mash-up of tunes, Death by Burrito is where it's at.
For further information or to make a booking please visit the official Death by Burrito website
Food: 16/20
Cocktails: 15/20
Service: 15/20
Death by Burrito: 49/60
Tapas Revolution, Westfield, October 2012
Once called the "Antonio Banderas of cooking" by Gordon Ramsay, Omar Allibhoy is the creator of Tapas Revolution offering tasters of Spain in the heart of London's Westfield Shopping Centre with its sister-branch at Bluewater. This 27-year-old chef, with experience having been trained at the famous El Bulli restaurant by the legendary Ferran Adria, comes up as quite revolutionary in his actions by opening up his restaurant amidst the sterile, white-washed wonders of Westfield.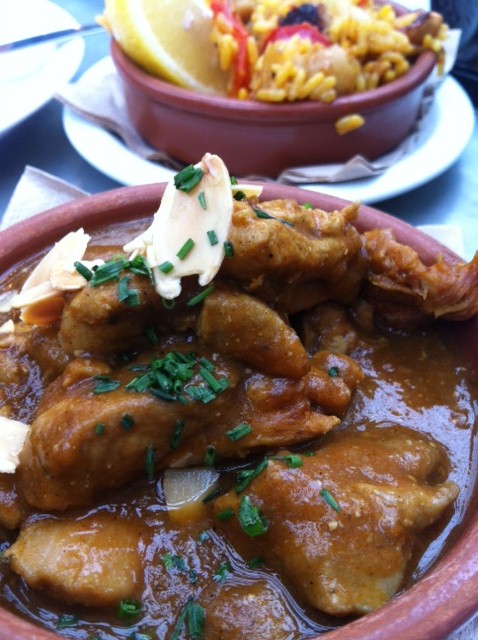 It seems to work here, perched on stools overlooking a counter, with views through hanging decor and displays of Spanish produce, evokes fast food fiesta style, serving up hot and cold tapas varieties. The menu offers dishes between £3-£7 each, reasonably priced, with a choice of Pescado (fish), Carne (meat), Vegetales (vegetables) with a Jamon Iberico, Charcuteria and Serrano section where 'Iberico' pigs are a unique breed that roam freely in the woodlands of Spain eating acorns and herbs. The meat is then cured for 36-months to develop its delicious flavour.
And if that was not enough to get your mouth watering, over a Spanish beer and a milky almond flavoured traditional Horchata drink, we kicked off with a creamed, al dente seafood paella, delicate and perfectly seasoned. This paired with Chicken in Saffron (Pollo en Pepitoria) a spiced curry-like stew flecked with almonds and hints of cumin. The patatas bravas, a carb-staple of crisp potatoes sunken in rich tomato sauce and aioli could have you greedily debating on whether to order another portion.
The highlight was the Vegetables de Temporada con Manchego, pan-fried seasonal greens with triangular sliced Manchego cheese, flawlessly cooked marinated vegetables soaked in an olive oil dressing, which was only missing some bread to mop the plate clean. The Calamares en Salsa Americana, squid that is cooked in a lightly-spiced sauce with white wine, simple in flavours, was our least favourite dish. However this was redeemed by the curved shaped Churros con Chocolate, cinnamon dusted and crisp, with chocolate dipping sauce.
A favourable pit-stop for lunch while perusing the shops, after trying out the menu, it's unavoidable to order 'just one more.' You may even just meet the chef himself, sitting next to you or asking how your lunch is, reminiscent of the comfort of eating at your friendly local. Well worth a visit.
Food: 16/20
Wine: 16/20
Service: 16/20
The Tapas Revolution: 48/60
Mad Hatters Tea at the Sanderson 11th July 2012

Last week we took a trip to the Sanderson hotel to indulge in their Mad Hatter's afternoon tea! A tea of sweet treats, a bit kooky, creative and a "tumble down the rabbit hole" lost in the world of Alice in Wonderland. All of the desserts, cakes and sandwiches were inspired by this, the menu for starts was an interesting read.
Held in the Suka dining area, in the courtyard of the chic Sanderson hotel (with the interludes of down pours) it didnt seem to faze our afternoon treat.
To start we were brought the menus to decide which cocktail we would like to try,  I had a jasmine infused belvedere cocktail shaken with apricot brandy, cranberry juice and apricot jam, an interesting and delicious combination! The earl grey 'Vivd Hour' cocktail was equally as mesmerising with raspberry vodka and framboise liqueur.
The first taster of the afternoon tea was the rainbow assorted sandwiches, with various fillings the smoked salmon and cream cheese on spinach bread was the one that stood out for me the most. Using other traditional fillings like ham and mustard, cucumber and cream cheese they were piped up by the colourful array and flavours of breads.
The sweet treats, which lets face it is why we are here, were well.. SWEET! The 'Eat Me' Strawberry cream mousse, in the shape of a red heart, with decorative piping, crumbled under your spoon, sweet mousse with a light biscuit base. The Chocolate Rabbit's Clock, a sponge made from chocolate and coffee (not a big coffee fan) was moist in texture, rich and SWEET, but needed something to cut through that overload of sugar.
A lovely touch waere the mini 'Drink ME' bottles filled with coconut pannacotta, foam, passionfruit puree, drank through a straw and svouring each layer, didn't quite work as well as I expected it to. The hazelnut chocolate praline lollipops were the most enjoyable from the selection, once broken into the crust, a warm oozing liquid of praline satifies the tastebuds. The Blueberry lollipop suggesting it turns from cold to hot, didn't really fulfil the expectations, however the scones, clotted cream amd jam were as good as it can be.

An interesting afternoon tea, the idea is there, yet some elements don't quite hit the mark with expectations from this £35 per person tea time treat. The cocktails however were azmazing and I could of easily necked down a few more of those..
The Sanderson
Ambience 7/10
Food     6/10
Drinks 8/10
Service 8/10
Hands and Flowers, Marlow – 2nd May 2012
For my birthday exactly a week ago I was suprised with a birthday dinner at the 2 star Hand and Flowers in Marlow, by Chef Tom Kerridge.
Upon approaching the town of Marlow, I pretty much figured out where I was being taken (as I had mentioned it before also!)  On entering the pub, with its low beams, cosy ambience we are led to our table, seated quite close to others.
The service is friendly and accomodating  to our needs and any questions about the menu are answered by the waitresses/waiters who seem to be knowledgeable about how the dishes are made and the ingredients.
After deciding on our meal choices from the al la carte menu (this took a while on my half) we were brought complimentary deep fried white bait served with a marie rose dipping sauce. Also freshly baked white and soda bread with creamy soft butter to spread..
For our starters we ordered the Pork Terrine, with pickled vegetables and mushrooms. It came with a side of sourdough toasts and creamy mushroom flecked butter.  It was creamy, spreadable, delicious and worked well with the combination of pickled vegetables.
The other starter was fried scampi, with vegetables, leaf, radishes,on an amazing bed of raw beef bouillon, it was like small scoops of jelly flavoured with beef and once eaten with the vegetables it was a great texture contrast. Something I have not tried before, it almost looked like the fat you get around meat the day after its been cooked! But the flavour was so intense it was delightful.
We ordered the Tenderloin of Wiltshire Pork with maple glazed cheek, pickled mustard leaf, frankfurter and dauphinoise and the other main was the fillet of Lancashire beef with bernaise and hand cut chips.
Both meals were delicious, presentation was faultless, the pork was so moist and succulent, the cheek was a fatty, melt in the mouth piece that went beautifully with the dish. The frankfurter really brought it together, at first I was a bit unsure, but there was a well thought out reason for why it was there. It added smokeyness gave the dish a "punch" it needed.
The fillet of beef, was tender and medium rare in the middle of the fillet, It was quite a large piece but it had a more well done, darker crust, which made it slightly harder to cut into. Other than that the hand cut chips were amazing, crispy, not greasy, but just how they should be. The Bernaise sauce was presented in a tiny jar to pour on at your desire, great to get the customer interactive with the food.
For dessert we ordered the passionfruit souffle with kaffir lime ice cream and toffee sauce. This dessert was indulgent is the word to describe it, perfect souffle with sharp passionfruit notes and warm toffee rich sauce to pour over but the highlight was the kaffir lime icecream. It was a refreshing, creamy, soft and silky this was definetly an exotic dessert!
The other was a salted caramel chocolate cake with muscavado sugar, this small square cube of chocolate cake that appeared on a rather large plate, it did look out of sorts at first but once you break open inside the chocolate cake out splills the silky free flowing warm salted caramel sauce, rich and buttery.
Then this small cube of chocolate cake was really enough! Its rich, satisfying, warming and with the scoop of muscavado its the qualityof this dessert that excels.
A great birthday treat for the stomach and the soul, I was a happy bunny. I would recommend to anyone to visit this wonderful 2 star Michelin place for an ultimate food experience.
Ambience 7/10
Food   9/10
Service  9/10
http://www.thehandandflowers.co.uk/
Litle Brown Jug, Tonbridge, Kent -18th February 2012
Last weekend on a last minute whim we decided to go out of London into the depths of Kent, to find a diamond in the countryside. We wanted to find a lovely cosy pub, serving tasty grub, friendly service and inspire a relaxing afternoon out.
We found the five star review-rated Little Brown Jug pub based down in Tonbridge, Kent.From the exterior, small car park and location in this small town, just off the high road, the pub looks smaller than it is inside. Upon enetering the wafts of hearty meat dishes lingers in the air amongst the warmth coming off plates of sweet desserts being served.
Immediately, it made me smile, it has a very cosy, family orientated feel about it, low level ceilings, that old victorian style beams ahead, whilst flickering candles are positioned on all the tables to give it a homely feel.
Upon scoping the menus, there is a good variety of dishes, starters, mains and dessert. We chose to go for the Rye Bay King Scallops with celeriac puree, carrot & parsnip julienne, confit onion, spiced cream sauce (£8.50)
They were the most tender, melt in your mouth scallops, it was like cutting through soft pillows of fish, the scallops were perfectly cooked. But the sauce was really what stood out, it was a spiced sauce (similar to thai green) which you might think would overpower the scallops but combined really well. The mini confit onions added small suprises in mouthfuls and the julienne vegetables finished off the completed dish.
The main I had was a Highland Farm, Shoulder of lamb, with  a herb crust and honey/mustard glaze, dauphinoise potatoes, rosemary, redcurrant and wine sauce (£16)
It looks big, but I ate it all! Sharing some of it of course.. the lamb was succulent, falling of the bone, no dry areas of meat to be found! It married well with the sweet, rich, flavoursome rosemary wine reduction. It kept the meat moist  and the potatoes complimented the lamb, creamy, with a bite, those potatoes held their shape and texture in the dish.
We also ordered the burger, which was
served with a large portion of thin fries, the onion relish was delicious, the burger itself perhaps a little small (you cant see it in this picture!) ,yet cooked medium, it tasted like a burger should (but perhaps more filling was needed).
The dessert was a naughty chocolate brownie, served with a caramel sauce & vanilla ice cream sprinkled over with honeycomb. The brownie was gooey inside, with the end bits cooked to cake like texture, the accompanying caramel sauce is a tad sweet and borders on taking the dessert over the edge. However, some may enjoy the extra sweetness, I favoured the ice cream with the honeycomb crunch, just the right amount of texture needed.
Still I had to finish most of it…
It was worth the journey out into Kent to come to this delectable country pub, which changes its menu seasonally, using quality ingredients at competitive prices its definetly worth it for a treat.
Nearest train station is Penshurst Station, however if you do drive the narrow country roads, driving back home in the dark, were an interesting affair..
Ambience 9/10
Food  8/10
Service 7/10
http://www.thelittlebrownjug.co.uk/
La Ratatouille, Baker Street, London – 8th February 2012
I have eaten out between the last review below and this post, it's just taken me a while to update this page! I have been venturing into trying alot of street food available in London and the UK. However, the other day I was off to meet a friend in London, near Baker Street, I don't often come to this neck of the woods to eat out, but with some interesting places to try, we walked the streets in zero degrees, wrapped up to the head to toe hoping to stumble upon somewhere which we did! And I am glad we found, off the hustle and bustle pretty restaurant, La Ratatouille.
I had previously read about this restaurant and was intrigued after seeing good reviews about the food and service.
In a convenient location near Baker Street station, close to the chic Marylebone High Street, this restaurant has a natural bistro-esque feel and cosy atmosphere, not pretentious at all, the menu prices reflect the quality of the French cuisine offered here. The menu is seasonal, hearty and comforting food.
We decided to go for the 3 course menu, at around £24 pp, here we chose starters of Gratine a l'Oignon or French onion soup, with grated guyere cheese and croutons. What can I say about this dish is it was amazing ( I had not drunk any alcohol at this time to deter my palette or taste buds) but this soup was beautifully sweet from the onions, the cheesy crust, was similar to tapping through that sugar curst on a creme brulee. Once cracked you permeated into the sweet soup, finding soaked croutons tumbling in stringy guyere cheese.
There was a lot of cheese in this starter, but I couldn't help but finish it all, it complimented the flavours so well. It's inspired me to try making this at home!
Afterwards our main meals of Pollack, with tomato vegetables with a parsley sauce and the Wild Mushroom Risotto were served. On first impressions were the risotto filled a large plate, it seemed quite heavy for one person, however, the flavours were creamy, the risotto was slightly al dente, but the wild mushrooms were the best part of it, all nestled among the dish. I could not finish it all, but was content enough in fishing out the wild mushrooms, soft and flavoursome.
The fish was cooked to perfection, dressed in a parsley, herb dressing on a bed of vegetables in a silky, sweet tomato sauce. You could tell the flavours had really developed in the tomato sauce from the sweetness of the veggies it was the preferred main to me than the risotto!
The dessert (Du Jour) was the apple tart with cream and chocolate sauce, whereas my friend went for the Chocolate Fondant pudding with vanilla ice cream.  On presentation of the apple tart it look delicately put together, had a golden egg glazed sheen on the pastry, accompanied with a slightly small portion of cream and just the right amount of chocolate sauce, although I wasn't convinced it was the right combination.
I was slightly disappointed by the apple tart, it seemed that the dessert du jour was just a little bit stale not fresh enough, like a tart should be. It was a struggle in some cases to cut through the pastry and a bit of a let down to what started as a great meal.
However, I cannot forget to mention the chocolate fondant, which was perfectly gooey and melting in the middle. The rich chocolate and vanilla bean ice cream was an obvious combination and worked.
We complimented our meal with a bottle of wine, water and this came up to about £40 each, with the changes to the dessert, a greedy side order of frites, green salad and service charge. Which was in itself attentive, friendly and welcoming. I would recommend this restaurant, for a taste of authentic French cuisine, great service and the feel of being in France the minute you step through the door..
Ambience 8/10
Service 8/10
Food  7/10
Cabana, Westfield, Stratford, London – 11th November 2011
Photos © John Carey (www.john-carey.com)
"Tudo Bem", meaning "everything's good", is a spirit that's in everyone's heart, whatever cards you've been dealt according to the Cabana Brasil Restaurant. And with this in mind I went over to review this new restaurant..
Founders, Jamie Barber & David Ponte have delved into the street food world in their attempt and homage to share the "real" Brasil. The idea behind Cabana is that of street food, where customers pick and mix from the menu, and it's a concept that's proving popular among new restaurants opening in London.
There are two branches, one at the expansive Westfield Shopping Centre in Olympic Central, Stratford and the second in the bustling, hub of Covent Garden. I was invited to taste their new menu at the Westfield Branch for lunch.
Iv'e always gravitated towards eating Brazilian food, Feijoada being one of my favourites, a stew of pork and beef with beans or the creamy black beans cooked with garlic and onions makes a great accompaniment to a dish.
It has always seemed to me that the British has taken a longer time to warm up to Brazilian cuisine, other than the success of Mexican food that's quite well established with the likes of Thomasina's Miers' Wahaca, to La Perla and more street food eateries like Benito's Hat dripping London Street's. So it was a nice breath of fresh air to see this new Brazilian restaurant pop up in the central heart of London. The other I know of is Rodizio Rico which I have yet to get around to trying..
I managed to find Cabana, next door to Wahaca at the busy Westfield Shopping Centre, located outdoors, staff were friendly and welcoming and I was promptly seated (near to the grill or churrasco as they call it.
Ambience:
The ambience was relaxed, buzzy and Brasillian beats melodied in the background amongst the wafts of bbq meats and veg being prepared. The walls are plastered with colourful decor, old poster and prints to give it a street chic..
There were quite alot of staff, I went for the lunch service just after 2pm, there were not many people seated in the restaurant and the staff kind of congregated in a area at some points just standing around looking a little bored or simply chatting away… This was a little off putting but I can imagine they would be more busy at peak times.
Food:
The menu was explained to me and how the service worked where Cabanistas (staff) would come to your table every five minutes or so offering you meats, fish, pork from the bbq on skewers or whatever you fancied on the menu and you could pick and choose.
You are given a card, red on one side and green on the other, where you can place in full view of the Cabanistas, red meaning stop giving me food I'm too full!
I ordered for starters ( a recommendation) Chicken Coxinhas, small balls filled with shredded chicken and fiery spices. I was given three in a bowl, enough for a starter and enjoyed these crispy coated balls with a subtle chilli kick. Washed down with a fresh juice muddled with lime, dark sugar and mint it was a refreshing palette cleanser.
Wanting to try a variety of what they had to offer, I opted for the black beans as a side, portobello mushroom with halloumi cheese, butterflied pork tenderloin with a parmesan crust, pork and papaya sausages, accompanied with their chimichurri sauce & salsa in tiny little dishes.
It took a little while to get the service up and running and soon the food was coming round,the pork tenderloin was soft, melting, succulent with a cheesy herb crust, the mushrooms were oiled up, juicy and layered with melted salty halloumi and the black beans were creamy but a little bland and more seasoning was required.
However, their take on these fruity, sweet pork and papaya sausages were the best thing there. The chunks of papaya (maybe too chunky) were encased with delicious pork meat and grilled on the barbecue for a smokey flavour. I did find they could have provided more salsa or chimichurri sauce, the table sauces were mostly hot chilli oil and their own spicy 'Malagueta ' chili sauce, which is a bit of a shame if you can't take the heat (me being one of those wimps)
Overall the food was well cooked, presented and served with a smile, however at times I was unsure if the staff knew what they were doing, but I believe they are new!
There is a good variety of dishes on the menu, ranging from mild corn on the cob, honey and date chicken to the spicy Malagueta prawns or chicken, a great array of Brazilian street food,  Sweetcorn Pamonhas, Rice Bolinhos and Salmon Ceviche.
They are accompanied by traditional dishes like sweet potato fries or cassava chips to the more "english" dishes with a Brazilian twist.
Having just tried the main meals to get a good taste of everything, seriously if I consumed all I had ordered you would have to cart me back home.. I tested their patience and asked for my food to be wrapped up so I can take it home, at first one waitress suggested they do not do that, but having asked another she was more than willing to after checking with the kitchen and there you have it I had dinner for my husband that night.
For the all important dessert you have the choice of frozen yogurt (which I was told is FAT FREE) or Cabana's Banana and Caramel Cheesecake. I decided to get the recommendation of my waitress and try the peanut butter frozen yogurt with chocolate sauce and fruits. It was as she explained " to die for" and yes, it was deliciously creamy, nutty yet smooth and well I ate the whole thing.
You can opt for other flavours from natural, caramel to their swirl of the season, in this case the more exotic Guava topped with your choice of nuts, brittle or toppings and sauces.
To round-up my review and experience of Cabana, I found it relatively satisfying to try the various street food of Brasil, however it is not the cheapest (getting one skewer from the bbq section was around £4-£6 each time) however you are given reasonably generous portions.
Food is succulent, juicy, fresh and straight off the BBQ, staff are attentive and friendly (very apologetic when the fire alarm went off during service). I feel over time once Cabana get's up on its feet and find's its place in the street food world in London it will be a success for the curious customers willing to try something different for the experience and a modern slice of Brasil.
Ambience  7/10
Service 6/10
Food 7/10
Tibits, Heddon Street, London-3rd November 2011
Iv'e been looking forward to this one! A vegetarian restaurant in the heart of Piccadilly, positioned in the backstreets of Heddon Street, in a little courtyard surrounded by other establishments like the Ice Bar, Momo and The Living Room.
Tibits, comes from the words titbits/tidbits and stands for 'fresh, healthy, delicious food and drink.'  It is the brain child of Reto, Christian and Daniel Frei, and their vision was a 'high-class, fast food vegetarian restaurant.' The idea being their quest for a place they could eat tasty vegetarian food in relaxed surroundings.
Ambience:
Walking in, gathering shelter from the rain, a warm welcome awaits and we are promptly seated admist other diners. You first notice the Food Bar located in the centre of the restaurant, set under lighting, illuminating the choices of hot and cold vegetarian dishes.
The restaurant was quiet at first, however we were there around 4.30pm on a thursday afternoon and it soon gathered up pace with after-work diners coming to grab a meal. I would imagine Titbits would be popular as a lunch time venue, as I would be more than happy with the food selection for a lunch time stint.
The decor was kistch, modern , with colour changing ceiling lights, low lighting at the tables and even candelabra's while faceless photo frames were drapped on the wall. The relaxed vibe in the restaurant was amplified by the chilled-out house music in the background, perfect ambience if you even want to come for a meal by yourself or with the family or friends.
Food Selection:
At first I wasn't too sure of how the process worked of ordering or getting your own food, however the menu explains this and how you dish your food from the food bar and take it to the counter to be weighed. There you respectively pay your bill and can return to your seats. It's a relaxed affair and you can choose to get a new plate when you feel like it (but there were times I almost forgot I had to pay!)
I made sure I tried a good variety and selection of the food on offer, there were over 40 dishes, each seasonal, GM- free ingredients, with Asian, Indian and Mediterranean influences. Ranging from crisp falafel, samossas (that were not greasy or oily), jalapeno's encassed in sour cream and a crisp coating, onion quiche with organic spelt and rennet free and a spicy creamy aubergine thai curry.
The dishes that stood out for me were the Aubergine Amaranth; with rocket and basil pesto and the dried bean salad; dressed in a walnut and coriander dressing (very punchy in flavour). There is also Quinoa in a sweet chilli sauce and the crispy falafel ( I had to mention it twice). All had distinctive flavours.
The cold salad's ranged from pumpkin, butternut squash to cheese with apple salad and one I had not tried before a Wax Bean Salad (with cranberries, horseradish and walnuts) this is one I wasn't too keen on, but I think its down to personal preference on textures!
Here at Tibits you feel compelled to try everything at least once, but it's so easy to forget you have to pay for it in the end! The menu has the flexibilty to change seasonally and is constantly being topped up by the chefs, which is always good to see (remember those dodgy buffets you go to, where the food has been sitting there under the lights for a while) well there's none of that here.
There are a small selection of desserts; Tiramisu, traditional cheesecake, fresh fruits and Apricot Quark (a creamy yogurt). The tiramisu was rich in liquer flavour, the cheesecake was like a New York Cheesecake, not too sweet, the best had to be the Apricot Quark, creamy, smooth, fruitful.
Being previously on a yeast free diet and prone to allergies it was a breath of fresh air to find a restaurant like this, where all the food is healthy and good for your body. Hence their tag line 'Food that Loves you back'.
The price for a plate of food, on average here is between £3.50 to £5, depending on how much you pile upon your plate!
If your in the area, why not pop to Tibits for light lunch? or it's a great place to meet friends for a bite?
Not to mention you may just do a bit of celeb spotting.. my sister claimed to see Roger Black that day and it was him!
Ambience  8/10
Service  7/10
Food 8/10
Tacuba, Balham -15th October 2011
It's been a while since we've ventured to eating out and about, since I've been creating a lot of recipes at home! But I booked a Groupon deal in March  and I only realised last weekend it would expire.
So after being greedy at the Chocolate Unwrapped Show on Saturday, I headed down to good old Balham, South London, to restaurant Tacuba.
Tacuba is a cocktail bar and Mexican Street Food joint, in the midst of Bedford Hill. I walked in to a half packed restaurant, large benches on one side and a small cocktail bar to the rear.
The ambience was relaxed and people chatted through their meals, seeming to enjoy their food and mexican cocktails, I was left waiting around at the bar area for a while before being seated, which did kill after being on my feet all day.
But after being seated, I waited for my hubby who was a little late so I perused the colourful menu, seeking out what I will order in accordance to the Groupon deal.
Included was a 3 course meal per person, a choice of started, main and then the dessert was to be churros with ice cream. We all like a good crispy churro.
Once the hubby had arrived we ordered two cocktails, a strawberry mojito and mine a watermelon mojito both served in Jarrito mugs. Fresh mint, vodka, rum and fruit all mixed together with lashings of ice, very refreshing
Feeling very hungry we ordered nachos and and a Nopolitos con Chorizo Taco, soft tortilla with salty chorizo & cactus pieces! I've never tried cactus before… but It didn't have spikes! It was soft, similar texture to a gherkin or something of the same family, with a slight tang but all in all delicious and the highlight of the meal…
Well this can't be too good you think. The mains were both from the specials; Enchiladas Verdes & a Chicken Mole Enchilada. I was expecting a tender piece of chicken cooked in a delicious chocolate sauce with spices & flavour, but what I received was shredded pieces of dry chicken, wrapped in tortillas covered in a chocolate sauce…
The sauce was slightly bitter and rich but I expected it to be dark and decadent but it was too separate from the chicken, it had just been slathered in top of the tortilla. Not impressed..
I actually preferred  my hubby's Enchilada Verdes, which had more flavour, of the fresh coriander,green tomatillo and pico de gallo sauce.
Dessert arrived in the form of one churro, slightly chewy and not crisp and hot.. with a drizzle of sauce and ice cream. You could tell it had been sitting around for a while.
The meal came up to £20 for the voucher I had purchased, I probably would not have paid more to be honest.
The atmosphere and ambience, mexican music and joviality was pleasant, but food was not the best I've had and I probably wont be coming back again.Great street food doesn't have to mean skimping round the edges.. I could have probably got a fajita or enchilada kit from Old el Paso and created something more scrummy at home.
Very friendly service, comfortable surroundings, average street food
Ambience 7/10
Service 8/10
Food 5/1o
Paternoster Chop House- 31st July 2011
Sitting here having a nice cup of Peppermint tea, I thought maybe its time a good time to write-up my review of my recent visit to the Paternoster Chop House in London. I had been given a gift voucher to go and try out their 3 course set menu for their Sunday lunch.
The food served here is distinctive British, sourced ethically and with fresh seasonal ingredients. I was intrigued to try out this place and walking up to it the formally dressed attire of the waiters made us feel slightly under dressed! But they were welcoming and made an effort to make sure customers were comfortable and their every whim is called upon in a friendly manner. Being a sunny day,  all customers were seated outdoors overlooking the square. I cannot comment on the atmosphere and whether it would be the same visiting the restaurant for dinner, but while we were there it was pleasant.
For starters, we went for a goats cheese tart served with wild leaves and Ox tongue served with pickled walnuts. Well.. I was not too sure about the ox tongue, I hesitated as you would but here writing my food blog I personally have to give everything a go! So I tried it and actually loved it! It was presented as like a terrine, spreadable on toast with pickled walnuts on the side. Great.
Overlooking the menu, there were a variety of interesting dishes, including the Beast of the Day; which was Galloway beef, served with beetroot, horseradish and yorkshire pudding. And the Fish of the Day which was Red Mullet, with a tomato and fennel butter.
We decided to try the above and I was pleasantly satisfied by the soft flakiness of the fish and how well it complimented the fresh fennel and parsley butter that gave the fish a silky finish. This was served with seasonal greens and watercress and I ordered a side of crispy roast potatoes. ( I do love my carbs!)
The Beast of the Day was a juicy, succulent cut of Beef that was served with a small pot of breadcrumbs unusually it added an interesting crunchy texture!
No meal is complete without dessert,  In fact I think I'd probably decided what I was going to have before I even ordered my starter! We had the seasonal fruit crumble with ice cream, which was a lovely combination of sweet and tangy Summer berried and rhubarb. The other was a plum and almond tart which was crumbly, moist and tasted divine!
So to conclude, this was definitely a great place to go for Sunday Lunch in the City. The presentation of the dishes was immaculate and the service was faultless. At a £30 deal a head for 3 courses plus tea, coffee its worth it.
http://www.paternosterchophouse.co.uk/  Warwick Court, Paternoster Square, London